Activities and fun things in BCN
We'll add more to this area as it comes up, but here's a quick snap-shot. Barcelona is a very vibrant city which caters to practically every taste. There are a large number of museums and galleries, sporting events and activities and plenty of bars and restaurants of all types and all tastes, and just about every major rock band passes through BCN on their world tour. And of course there are beaches and sunbathing.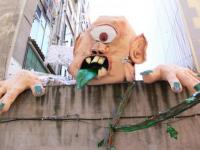 Our main focus has been on family activities, so we can't describe the large number of clubs and bars through the city, or tell you much about the big summer music festival (Primavera Music) - but there are lots of guides more focused on the more commercial events.
For adults and families there are lots of fiestas and barrio festivals around the city. Probably the best is the Gracia festival in August. There are also lots of other free outdoor events where you can go and watch say the castellars building human towers, or odder occasions like dog-sleds on the beach. If you have some catalan, there are also lots of theatres and musicals and our children go regular to the theatre with their school. And if that's not enough there are the buskers and street entertainers particularly on the Ramblas or Placa Catedral (just take lots of care about pickpockets).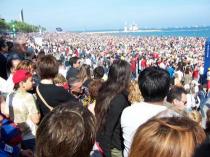 In June 2006 we had Grand Prix Airplane races over the beach with more than one million people on the litorral (it wasn't as exciting as it sounds). But because of the logistics probably won't happen again. There are other less spectacular air shows for planes from Sabadell and there are also tall ship regattas on the sea in front of the city.
There are festival days for various saints and public holidays. Sant Jordi with it's romantic custom of exchanging a rose for a book (St George is also Catalunya's patron saint which is why Barcelona has the flag of St George in its coat of arms), Sant Joan with fireworks, Merce in September and Constitution day earily in December. There is almost one bank holiday or festival day a month here.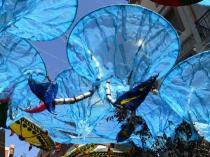 There are lots and lots of parks in Barcelona, but not necessarily with lots of grass (though take a look at Park de la Labyrinth in Out and About). But in generally we believe that people seem to keep reasonably local with their activities.
Walking in the countryside is one thing we've found difficult. We like walking but it's hard and not really the countryside for it. There are some good walks around for instance in Parc de Collserola in the hills at the back of BCN, but even the good walks can be craggy and difficult, and walking with a map can quickly lead to densely overgrown paths and steep drops - oh and the maps don't seem totally accurate as to where the paths really are.
For children living here birthday parties tend to be held in parks if in summer and are a lot less formal or organised than in the UK. Basically parents and children congregate, parents take a drink at the bar children run around then sometime later there is a cake or snacks to eat. In the winter it seems that children's parties move to Xiqui (Chiqui) parks which are ball park play centres of which there are several around the city (Happy Land/ Diagonal Mar and Marina are relatively near by here.